High-performance equipment
Flexmap 3D
Flexmap 3D Multiplexing platform compatible with magnetic and non-magnetic microspheres able to discriminate up to 500 different microsphere sets in a small sample volume. The platform offers a large menu of commercial and customized assays for a wide variety of applications including nucleic acid assays, immunoassays, receptor ligand assays, and enzymatic assays.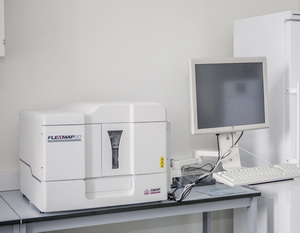 Randox Evidence Investigator
Randox Evidence Investigator – Biochip Array Technology- based on ELISA principles, provides rapid and accurate multiple analytes detection from a small sample volume. The biochip is a solid device with discrete test regions with specific antibodies to different analytes. Area of research: cerebral arrays, cytokine arrays, adhesion molecules array, endocrine and metabolic syndrome arrays, molecular arrays and toxicology.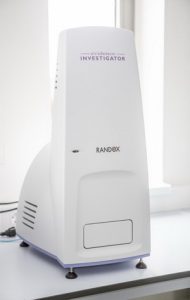 IMMULITE 2000 XPi
The IMMULITE 2000 XPi has the best-in-class reliability you expect from the IMMULITE family of products.
The IMMULITE 2000 XPi system is a continuous random access immunoassay analyzer with a maximum throughput of 200 tests per hour. This design increases workflow and enhances productivity for medium- to high-volume immunoassay laboratories by incorporating specialty and allergy testing into one platform.
The extensive IMMULITE 2000 XPi menu includes assays in these disease states: adrenal/pituitary, 3gallergy, anemia, bone metabolism, cardiovascular, diabetes, growth, infectious disease, inflammation markers, metabolic function, reproductive endocrinology, thyroid function, tumor markers, autoimmune, Therapeutic Drug Monitoring (TDM), veterinary.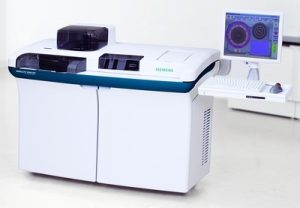 COBAS INTEGRA 400 plus
The Cobas Integra 400 Plus is an advanced integrated system for diagnostic clinical chemistry testing, a random and continuous selective automated analyser.
Classic chemistry, electrolytes, specific proteins, therapeutic drug monitoring, drugs of abuse, and thyroid hormone testing are consolidated into one system with one reagent cassette design.
More than 140 applications for all types of sample matrices are measured with one of four different measuring technologies  on single platform:
absorbance photometry: enzymes and substrates
turbidimetry: specific proteins, drugs of abuse
fluorescence polarimetry: therapeutic drugs, thyroid tests
ion-selective electrode potentiometry: Na+, K+, Cl+ and Li+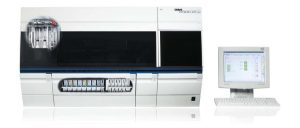 Applied Biosystems 7500 Fast Real-Time PCR System
Applications: Genotyping and Genomic Profiling, Real Time PCR (qPCR), Real Time PCR-Based Gene Expression Profiling.
High Resolution Melting (HRM) is available on Fast Real-Time
high-quality results in 30 minutes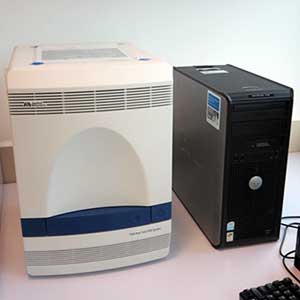 QuantStudio 12K Flex Real-Time PCR System
Applications: Genotyping, SNP QC and screening, Digital PCR for rare-allele detection,  MicroRNA profiling, Biomarker confirmation and screening, Gene expression quantification, GWAS follow-up studies, SNP sample tracking for biobanking, SNP fingerprinting for ancestry, Marker-assisted selection (MAS), Quantitative trait locus (QTL) mapping, Pathogen detection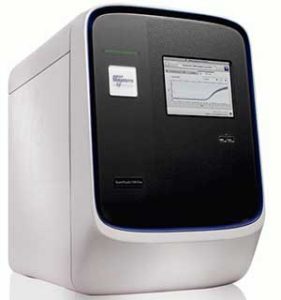 Applied Biosystems 3500 Dx Genetic Analyzer (24-Capillary)
It is based on Sanger sequencing
Applications: de novo sequencing and resequencing, microsatellite analysis, MLPA, LOH, MLST, and SNP confirmation or screening and fragment analysis, validating NGS discoveries May be used for the human identification application, mitochondrial sequencing, genome fingerprinting, etc.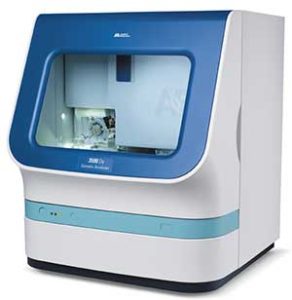 Ion Proton System ( Next-Generation Sequencing, NGS)
is a benchtop sequencing system
Applications: Human scale genome sequencing, Exome sequencing, Whole transcriptome sequencing or RNA-Seq, Small genome sequencing, Gene sequencing, ChIP sequencing, De novo sequencing, Methylation analysis, Gene expression by sequencing, Small RNA and miRNA sequencing
Flexar 10 UHPLC system coupled with 4600 triple quadrupole time-of-flight mass spectrometer
Applications: screening in food, drugs, environmental or forensic toxicology samples, drug metabolism, proteomics, metabolomics and lipidomics
Leica TCS SP8 Confocal microscope
Incorporates a motorised inverted DMI 6000 microscope, with 4 objectives, allowing the confocal scanning (laser scanning images) of fluorescence-marked living and fixed specimens as well as for quantitative measurements in the area of life science.
Confocal microscopy is an optical imaging technique for increasing optical resolution and contrast, eliminating out-of-focus light. It enables the reconstruction of three-dimensional structures from the obtained images.